On May 12, President Xi Jinping made an inspection tour in Taiyuan, Shanxi province, China.
The President went to the Jinyang bridge section of the Fenhe River contracted by the company, listened to report on comprehensive regulation of Fenhe River and "nine rivers" in Taiyuan City and ecological restoration of the river basin, and walked along the river bank to inspect the management of Fenhe River, ecological protection of both banks, urban environmental construction, etc., and expressed his satisfaction at the great changes in ecological environment. He pointed out that the regulation of Fenhe River is not only related to ecological protection and economic development, but also to the historical and cultural heritage of Taiyuan and Shanxi. We should adhere to the integrated protection and restoration of mountains, rivers, fields, lakes and grasses, integrate the enhancement of the ecological environment protection of the river basin with the promotion of energy revolution, green production, life style, economic transformation and development, adhere to the integrated promotion of mountain, water, gas and city governance, and continue to make efforts to enhance the attraction and influence of the city, and enhance the sense of access, happiness and security of the people.
The Fenhe River is the mother river of Shanxi province and the second largest tributary of the Yellow River. There are nine main tributaries in Taiyuan city. According to the requirements put forward by Mr. Xi in June 2017 during his inspection in Shanxi Province for Fenhe River to be "abundant in water, good in water quality and beautiful in scenery", the company has adhered to the priority of ecological protection, worked hard to overcome the adverse factors in the construction process, ensured safety, quality and promotion, and effectively improved Fenhe River water quality for the comprehensive management of "nine rivers" in Taiyuan city.
The third phase of Taiyuan Fenhe River treatment project is 12 kilometers, while the company is responsible for the implementation of the Fenhe River regulation and embankment works in Jinyang bridge section, covering construction and reinforcement of the levee, bank wall of the main channel, filling of the secondary platform and river dredging. The construction was started in June 2016 and completed in 2018.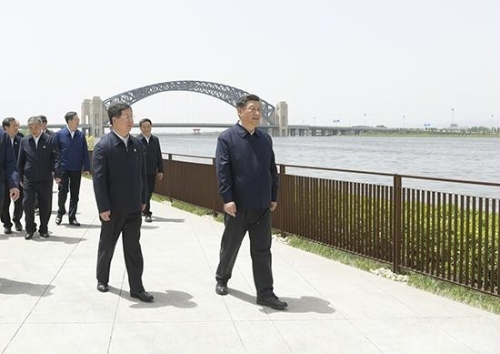 (photo source:Xinhua)